In the summer of 2018, the Discarded team brought to life the sweet Cascara Vermouth at the Foodies Festival in Oxford and Manchester. Situated from Birmingham to Brighton, the Foodies Festival attracts over 15,000 people and is the UK's biggest celebration of food, drink and wellbeing.
A plethora of food and drink were on display from elite bartenders and Michelin star chefs, thus becoming the perfect opportunity for Discarded to unveil its fresh and unique perspective on a Vermouth.
Hand Crafted Cocktails
On display were a numerous array of cocktails curated by brand ambassador of Monkey Shoulder, Joe Petch, in addition to the opportunity for consumers to buy Discarded bottles for the first time.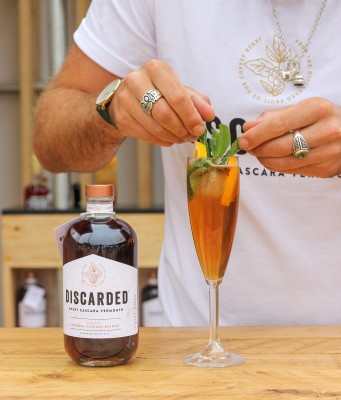 These included:
The Discarded Spritzer a refreshing spritz with prosecco, orange slices and mint leaves.
The Discardier a tantalising blend of Discarded Vermouth, Monkey Shoulder, Campari and finished with Orange zest.
The Discarded and & Tonic a modern take on the Gin and Tonic moment with the sweet Discarded Vermouth and Indian tonic. Simply and refreshing.
Sustainably Led
Synonymous with sustainability, Discarded ensured its 'Once Wasted. Now Treasured' ethos was in full swing during the festival.
Empty Discarded bottles were used to light up the stand forming a beautiful and upcycled display and any spare bottles were utilised to pre-batch the Discarded and Tonic cocktails to avoid unnecessary wastage of glass. Furthermore, to encourage sustainability during the Festival itself, the Discarded team encouraged visitors to recycle any plastic waste accumulated in plastic amnesty boxes.
Discarded has found favour amongst elite bartenders and locations including The Savoy, Duck & Waffle, Chotto Matte and Grind.